Our Histories Review
This is going to be a very short review I think:
First off what's with the funny noises again?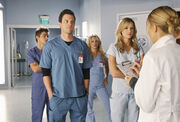 Well I noticed something last night, Kerry Bishé is seeming more like a lead now and not playing third or even fourth fiddle to the Scrubs of old cast. Lucy was toned down and is now pulling off the scared girl who thinks she is out of her league. I noticed something last night that was also picked up by fellow Scrubs-Wiki member Ah2846 that Lucy's fantasies are always result of her own narration. As well as her hilarious trait to me of her internal monologue spilling out into spoken words.
Light on Cole again good thing I guess, nice to see he went back on his own accord to see Paul the patient.
Also very light on Drew and Denise which is honestly I think only going to help Lucy, them characters are already fan favourites it seems and have already been well introduced.
J.D. and Turk, I don't get how is Turk going to be able to pull anything off when J.D. leaves Winston University. Also did they just pitch lets have a steak night type night and have it play out on screen and use it to try and GROW UP J.D. AGAIN? Wasn't Season Seven and Eight enough, why did they have to regress J.D. in the first place?
Although I am glad J.D. was tolerable this episode and actually more like J.D. of Season Eight, it did frustrate me J.D. called Turk the love of his life, yep that's the My Soul on Fire episodes ruined within a second just for a childish gag. We get it they love each other its been eight years, no body watching these episodes are new to Scrubs, seriously.
Now the part of the episode which I most enjoyed was Ted leaving New Sacred Heart, I have always been a huge fan of Ted mainly because I am a huge fan of Dr. Kelso and them two play off each other so well and this episode was just the same, although this was the C story it gave me the most enjoyment out of it. The sad sack is no longer the sad sack, loved every minute of it, Ted leaving reminded me of Dr. Kelso leaving in My Dumb Luck.
So thank you Sam Lloyd for returning for one final episode you made a very very average episode of this new show something far more special to me.
To read my other reviews you can find them Here.
Cheers
Ad blocker interference detected!
Wikia is a free-to-use site that makes money from advertising. We have a modified experience for viewers using ad blockers

Wikia is not accessible if you've made further modifications. Remove the custom ad blocker rule(s) and the page will load as expected.