Season Nine
Talk

184
1,471pages on
this wiki
Season Nine of Scrubs was its final season and originally aired between December 2009 and March 2010 on ABC in 720p High Definition. It averaged 3.83 million viewers per episode, making it the lowest rated season. It is available on DVD in region 1.
With the subtle nickname Scrubs: Med School, the series shifted locations to Winston University and the New Sacred Heart Hospital. Season Nine takes place roughly eighteen months after the last episode, "My Finale".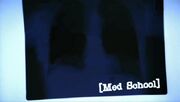 Now married to Elliot and expecting a child, J.D. returns to work with his best friend Turk at the newly rebuilt Sacred Heart Hospital. At Winston University, he, Turk, Dr. Kelso, and Dr. Cox serve as professors and Denise works as a faculty adviser to a young bunch of medical students. Among the students is the timid Lucy Bennett, hell-bent on making the most of med school, the womanizing Cole Aaronson, and the standoffish Drew Suffin who is actually making a second attempt at becoming a doctor. As J.D. tries to inspire, Dr. Cox tries to weed out the weak, and Lucy can barely stand the pressure.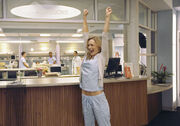 Lucy starts medical school and is glad that she has a fresh start with a whole bunch of new people, while J.D. returns to teach internal medicine.
("

Our First Day of School

")
Lucy feels a connection with an alcoholic, and goes out on a limb to help him.
("

Our Drunk Friend

")
When Dr. Cox's favorite student Drew fails, Cox gives up on him. Lucy looks to Denise to replace J.D. as her mentor when he is done teaching.
("

Our Role Models

")
While J.D. and Turk must face the fact that they are getting old, the med students have trouble conducting final interviews with terminal patients.
("

Our Histories

")
As the semester winds down, Lucy worries about passing Dr. Cox's exam while J.D. worries about student evaluations.
("

Our Mysteries

")
Lucy meets Elliot, who she thinks is an awesome role model, while Turk finds that Denise is a great friend to have around the hospital.
("

Our New Girl-Bro

")
When the White Coat Ceremony rolls around, Lucy must ponder why she wants to be a doctor, and Drew must face his past.
("

Our White Coats

")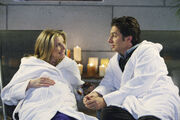 Lucy becomes ashamed of her relationship with Cole when people learn that they sleep together.
("

Our Couples

")
As Elliot's delivery date nears, J.D. finds a way to spend quality time with his expecting wife, while Lucy can't bring herself to cut open a cadaver.
("

Our Stuff Gets Real

")
Lucy's course load gets the best of her and when it comes time for a difficult exam, she resorts to cheating.
("

Our True Lies

")
She gets a chance to shine, however, when Dr. Cox names her the student in charge of "hell week" but lets Drew take his rightful place.
("

Our Dear Leaders

")
When Cole is diagnosed with skin-cancer, he finds that having a big ego and having friends don't go well together.
("

Our Driving Issues

")
As the semester winds to an end, Lucy struggles to find the good in people when she must write a speech thanking a family for their donation of her cadaver.
("

Our Thanks

")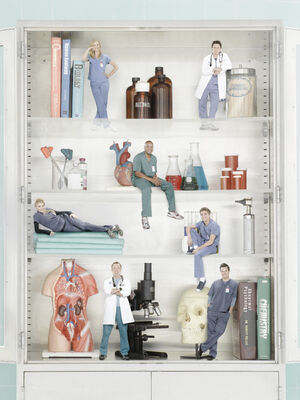 Category: Season 9 Cast
In an attempt to refresh the series into a new generation, the main cast received a major overhaul. In the eight seasons prior, the only main cast change was Neil Flynn's upgrade to regular for Season Two. For Med School, John C. McGinley and Donald Faison remained as full time main cast members, while Zach Braff was billed as main cast for only six episodes. Neil Flynn, Ken Jenkins, and Sarah Chalke appeared as guest stars, but Judy Reyes declined to appear because she wished to remain a series regular. After scoring well with audiences and critics in Season Eight, Eliza Coupe was promoted to the main cast, along with newcomers Kerry Bishé, Michael Mosley, and Dave Franco.
Main Cast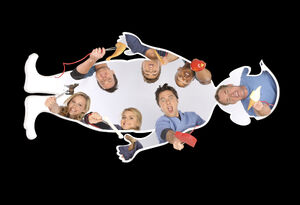 Supporting Cast
Guest Cast
Full list: List of Scrubs' awards and nominations
Donald Faison received his sixth nomination for an Image Award for his work in Season Nine.
Category: Season 9 Episodes
Full list: List of music featured in Scrubs

The ninth season continues the tradition of incorporating poignant music to highlight the mood of each episode including songs by So So Radio, Bright Eyes, Marching Band, Marvin Gaye, and Latch Key Kid. In addition, the title song "Superman" was covered by WAZ.
Main article: The Complete Ninth and Final Season DVD
The complete ninth season and final season was released onto region 1 DVD on September 28, 2010. The two disc set includes all 13 episodes, plus the following special features:
Scrubbing In
Bloopers
Live from the golf cart
Deleted scenes/Video commentary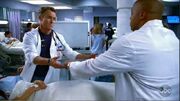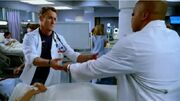 Filming was moved from North Hollywood Medical Center to Culver Studios where new sets were built for New Sacred Heart Hospital and Winston University. The show also switched from being shot on film to being shot on digital video, giving this season a noticeably different visual style to the preceding ones.
With the new cast, the show received a new title sequence, with a new version of "Superman", covered by singer-songwriter WAZ, who was featured before on Scrubs in "

My Full Moon

" and who is also responsible for the music in Bill Lawrence's other show Cougar Town.

The chest X-Ray in the title sequence is no longer backwards. Also, Bill Lawrence managed to sneak in "Med School" like he wanted.
A custodian/janitor can be seen in the background of the opening sequence used on Hulu but not in the opening that was used on air. ("

Our First Day of School

")
A second revision of the opening sequence premiered with "Our New Girl-Bro" which has Lucy placing the X-Ray on the board. When Zach Braff was no longer billed in the credits and a main cast member.

Season Nine is the only season where Judy Reyes, Aloma Wright or Johnny Kastl do not make an appearance.
Previously until this season, most of the episode titles begin with "My...", but this season they change to "Our..." this is because J.D. and Lucy share narration duties.