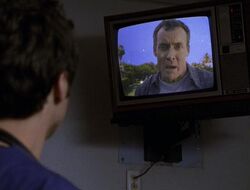 Never seen Scrubs or want to watch it again?
Every season is available on DVD and every episode is available to download or stream via iTunes, Amazon, Hulu, or Netflix. In most North American cities you can check local listings for reruns.
Or, if you're really hungry for Scrubs, look into buying The Complete Collection DVD.
By Season
Other DVDs
| | |
| --- | --- |
| | The Complete Collection DVD of Scrubs was released onto DVD in region one on September 28, 2010. The twenty-six disc set includes all 181 episodes plus the exclusive special features and extras. |
Interviews
| | |
| --- | --- |
| | Scrubs: Cast & Creators Live at Paley New York was released onto single DVD-R in NTSC exclusively to Amazon on November 18, 2010. This sit down interview filmed by The Paley Center for Media in New York on November 10, 2007 is moderated by Michael Ausiello and features Zach Braff, Neil Flynn, Christa Miller, Judy Reyes, Donald Faison, Sarah Chalke and Bill Lawrence talking about their experiences on Scrubs. |
Ad blocker interference detected!
Wikia is a free-to-use site that makes money from advertising. We have a modified experience for viewers using ad blockers

Wikia is not accessible if you've made further modifications. Remove the custom ad blocker rule(s) and the page will load as expected.