"

This is the greatest job in the world. Just make sure you enjoy it.

"

—

Dr. Kelso



Synopsis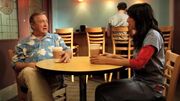 After promising to buy him a cup of coffee, Sunny sits down with Dr. Kelso in Coffee Bucks so he can give her some final advice as an intern. He yells at her when she doesn't want to buy him a coffee because he is already drinking one, and he eventually begins telling her the advice anyway. He tells her that she must always be on time, always have a weak friend to blame her problems on, and always keep secrets about anything that happens in the on-call room.
As Sunny states that she has to give the camcorder back to her sister so she can record her ugly baby, she shows clips of Ed, Denise, Katie, and Howie remembering the advice they learned around the hospital, which ultimately results in Denise giving Sunny a swirly off camera for not shutting up. Afterwards she shows a small clip of her sister's ugly baby.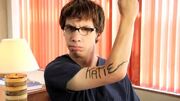 Plot Points
Guest Stars
Music
Quotes
"

And most important, what happens in the on-call room, stays in the on-call room.

"

—

Dr. Kelso



Trivia
Images
Ad blocker interference detected!
Wikia is a free-to-use site that makes money from advertising. We have a modified experience for viewers using ad blockers

Wikia is not accessible if you've made further modifications. Remove the custom ad blocker rule(s) and the page will load as expected.