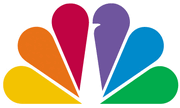 NBC, or The National Broadcasting Company is an American-based television network that had aired Scrubs for seven years. As of May 2008 NBC no longer broadcasts episodes of Scrubs. This is due to Scrubs being produced by ABC Studios, ABC Studios is a part of the same group as ABC a competitor network, NBC decided to not to order a complete Season Seven due to this.
This gave ABC the chance to pick up Scrubs and has aired it since Season Eight.
Scrubs' airdates and times on NBC
* Average viewers in millions
External Links
Ad blocker interference detected!
Wikia is a free-to-use site that makes money from advertising. We have a modified experience for viewers using ad blockers

Wikia is not accessible if you've made further modifications. Remove the custom ad blocker rule(s) and the page will load as expected.