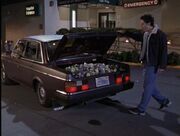 Malik was J.D.'s car until it caught on fire. He had it for many years, even through college. It was replaced with the Wolverines' scooters, but Carla made Turk get a more practical Mini Cooper but J.D. kept Sasha, his scooter.
Malik's brand is 1984 Volvo 240GL.
Ad blocker interference detected!
Wikia is a free-to-use site that makes money from advertising. We have a modified experience for viewers using ad blockers

Wikia is not accessible if you've made further modifications. Remove the custom ad blocker rule(s) and the page will load as expected.