Ad blocker interference detected!
Wikia is a free-to-use site that makes money from advertising. We have a modified experience for viewers using ad blockers

Wikia is not accessible if you've made further modifications. Remove the custom ad blocker rule(s) and the page will load as expected.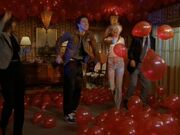 The following are songs and musical scores that are featured on Scrubs. Due to some contractual reasons, some reruns, DVD versions, and iTunes versions have alternate songs. Such instances are noted. Please add more if you find them!
Season One
Edit
Song
Artist
"My First Day"
"Away"
Leroy
"I Want You To Want Me"
Cheap Trick
"Over Me"
Tricky
"Please Forgive Me"
David Gray
"My Mentor"
"Good Time"
Leroy
"My Best Friend's Mistake"
"A Little Respect"
Erasure
"My Old Lady"
"Dracula from Houston"†
Butthole Surfers
"Fool"‡
Tim Cullen
"Hallelujah"
John Cale
"My Bad"
"Me and Mrs. Jones"
Billy Paul
"Good Life"
Francis Dunnery
"My Super Ego"
"Electric Relaxation"
A Tribe Called Quest
"Camera One"
Josh Joplin Group
"My Fifteen Minutes"
"Jam"
Checkone2
"Going Out With a Bang"
G-Sleep
"See Ya Around"
Keren DeBerg
"Wonderful"
Everclear
"The Magician"
Bobby McCall & Dontrell Mayfield
"My Day Off"
"Fuzzy"
The Incredible Moses Leroy
"Hooch"
Everything
"The Magician"
Bobby McCall & Dontrell Mayfield
"My Nickname"
"On Fire"†
Sebadoh
"Heard Ya Talkin'"‡
Jeremy Kay
"My Own Personal Jesus"
"Moving in Stereo"
The Cars
"Rock Around the Clock"
Bill Haley and His Comets
"The 12 Days of Christmas" Parody
Traditional
"Sinnerman"
Nina Simone
"Deck the Halls"
Arranged by Jan Stevens
"My Blind Date"
"Easy Tonight"
Five for Fighting
"My Balancing Act"
"New Slang"
The Shins
"Heard Ya Talking"
Jeremy Kay
"My Drug Buddy"
"Fighting for My Love"
Nil Lara
"1812 Overture (Opus 49)"
Pyotr Ilyich Tchaikovsky
"My Bed Banter & Beyond"
"Ever Fallen in Love?"
The Buzzcocks
"Tubthumping"
Chumbawumba
"My Heavy Meddle"
"Talk Dirty to Me"
Poison
"Have It All"
Jeremy Kay
"My Student"
"Attitude"
The Replacements
"High Time"†
Michael Penn
"This is a Love Song"‡
Single
"My Tuscaloosa Heart"
"Dance of the Sugarplum Fairy"
Pyotr Ilyich Tchaikovsky
"My Tuscaloosa Heart"
Ken Jenkins
"My Old Man"
"Surrender"
Cheap Trick
"My Way or the Highway"
"Above It All" ("Scrubs Side Story")
"My Sacrificial Clam"
"All In My Head"†
Shawn Mullins
"Upside Down"‡
Jackpot
"My Occurrence"
"Daydreams and Lies"
Keren DeBerg
"Hold On Hope"
Guided by Voices
"My Hero"
"Speedracer" and "Underdog" Themes
"Fresh Feeling"
The Eels
"Joy and Pain" (Arrangement)
Rob Base & DJ E-Z Rock
"My Last Day"
"Away"†
Leroy
"Only One"‡
Jeremy Kay
"Beautiful World"
Colin Hay
Key: †: Original Airing ‡: DVD
Season Two
Edit
Song
Artist
"My Overkill"
"Overkill"
Colin Hay
"

My Nightingale

"
Themes from The Facts of Life,
The Six Million Dollar Man,
and Charles in Charge
-
"

My Case Study

"
"In The Mood"
The Glenn Miller Orchestra
"What a Diff'rence a Day Makes"
Dinah Washington
"Drown"
The Poor Rich Ones
"Caught by the River"
The Doves
"

My New Coat

"
"A Little Better"
Keren DeBerg
"Here Comes My Baby"†
Cat Stevens
"

My Big Brother

"
"Something's Always Wrong"
Toad The Wet Sprocket
"

My First Step

"
"Bad Case of Loving You (Doctor, Doctor)"†
Robert Palmer
"Let's Have a Rendez-Vous"‡
DEE
"Rain King"†
Counting Crows
"Giants in My Field"‡
The Parkas
"

My Fruit Cups

"
"If I Had $1,000,000"†
Barenaked Ladies
"My Life of Crime"‡
The Parkas
"Mother We Just Can't Get Enough"†
New Radicals
"Shooting Stars"‡
Dee
"Ride Wit Me"†
Nelly
"

My Lucky Day

"
"Under Pressure"
Queen and David Bowie
"

My Monster

"
"Daydreams and Lies"
Keren DeBerg
"Movin' On Up" (The Jeffersons Theme)
Ja'net Dubois
with Oren Waters
"Dreaming of You"†
The Coral
"Dirty Minds"‡
Here Come the Mummies
"

My Sex Buddy

"
"Notre Dame Victory March"
Michael J. Shea
and John F. Shea
"Tell Her This"†
Del Amitri
"Paper Thin"‡
Jay Crocker
"

My New Old Friend

"
"Eye of the Tiger"
Survivor
"She Says"
Howie Day
"

My Philosophy

"
"At Last"
Keren DeBerg
"Waiting for My Real Life to Begin"
Colin Hay
"

My Brother, My Keeper

"
"Hello My Baby"
Ida Emerson and
Joseph E. Howard
"Gone"
Tart
"Me & Bobby McGee"
Janis Joplin
"My Fault"
Keren DeBerg
"Bulletproof Glow"
Avion
"He Ain't Heavy, He's My Brother"
The Hollies
"

His Story

"
"The Stripper"
David Rose
"Question"
Old 97's
"

My Own Private Practice Guy

"
"Sweet Georgia Brown" (The Harlem Globetrotters Theme)
Brother Bones & His Shadows
"

My T.C.W.

"
"Boy on TV"
Keren DeBerg
"Come Around"
Rhett Miller
"

My Kingdom

"
"The Payback"
James Brown
"Samantha"
Keren DeBerg
"Poison"
Bell Biv DeVoe
Folgers Coffee, Mennen, McDonalds jingles
-
"Blind, Deaf and Dumb"
The Churchills
"High Time"
Michael Penn
"

My Interpretation

"
"Let's Get It On"†
Marvin Gaye
"Handful of Blues"‡
Dustin Bentall
"99 Luftballons"
Nena
"

My Drama Queen

"
"Sleep"
Keren DeBerg
"Sex Machine"
James Brown
"Don't You (Forget About Me)"
Simple Minds
"

My Dream Job

"
"Pinch Me"
Barenaked Ladies
"Candy Man"
Sammy Davis Jr.
"Sunday"
Keren DeBerg
"My Brilliant Feat"
Colin Hay
"Funniest Moments Special"
"Beautiful Morning"
The Rascals
"Slut"
Todd Rundgren
"Diner"
Martin Sexton
Season Three
Edit
Song
Artist
"

My Own American Girl

"
"Faith"
George Michael
"Beautiful Day"
U2
"American Girl"
Tom Petty and the Heartbreakers
"

My Journey

"
"Don't Stop Believin'"
Journey
"

My White Whale

"
"Lovin' You"† (Generic Jan Stevens-written song used in Netflix version)
Minnie Riperton
"Disappear"
Dina D'Allesandro
"Do It Again"
Stroke 9
"

My Lucky Night

"
"Blind, Deaf and Dumb"
The Churchills
"Don't Know Much"
Linda Ronstadt & Aaron Neville
"Almost Feeling Better"
Tart
"Late Nights & Homies"
-
"On and On"
Keren DeBerg
"Cindy"
Tammany Hall NYC
"

My Brother, Where Art Thou?

"
"Nothing Left of Me (Picture This)"
Joanna de Seyne
"

My Advice to You

"
"Bad Day"†
REM
"Amnesia" *Appears on Some DVD Sets
Virgil
"

My Fifteen Seconds

"
"I've Been Waiting"
Matthew Sweet
"CHiPs Theme"
John Parker
"

My Friend the Doctor

"
"Stuck In A Moment You Can't Get Out Of"†
U2
"Theme from Shaft"
Isaac Hayes
"Empty Room"
Brian Paturalski
"Hero"
Enrique Iglesias
"William Tell Overture (Finale)"
Gioacchino Rossini
"Someone"
Tammany Hall NYC
"

My Dirty Secret

"
"Have You Ever Really Loved A Woman"†
Bryan Adams
"Impatient"‡
Piney Daviss
"We Don't Have To Take Our Clothes Off"
Jermaine Stewart
"Do It Again"
Stroke 9
"Timing's Off"
Tart
"Moving"
Tart
"

My Rule of Thumb

"
"Happy-Go-Lucky-Me"
Paul Evans
"It's Raining Men"
The Weather Girls
"

My Clean Break

"
"The Rescue Blues"
Ryan Adams
"

My Catalyst

"
"Good Thing"
David Boyles
"Everything's Not Lost"
Coldplay
"

My Porcelain God

"
"Down Under"
Men At Work
"That's The Way (I Like It)"
KC & the Sunshine Band
"A Murder of One"†
Counting Crows
"On the Down"‡
Tim Cullens
"

My Screw Up

"
"Winter"
Joshua Radin
"

My Tormented Mentor

"
"Roc Ya Body, Mic Check 1, 2"
M.V.P. featuring Stagga Lee
"Here Comes the Hammer"
Hammer
"I'm With You"
Avril Lavigne
"

My Butterfly

"
"What a Wonderful World"
Joey Ramone
"

His Story II

"
"Our Love"
Rhett Miller
"

My Choosiest Choice of All

"
"Far From Me"
Tart
"Jump Off"
Keren DeBerg
"Section 9" AKA "Light & Day / Reach for the Sun"
The Polyphonic Spree
"

My Fault

"
"Feel The Sun"
Bryan Schaefer
"One Thing"†
Finger Eleven
"Belong"‡
Deccatree
"

My Self-Examination

"
"Follow Through"
Gavin DeGraw
"

My Best Friend's Wedding

"
"Beautiful"
Avion
"Eight Days a Week"
The Beatles
Season Four
Edit
Song
Artist
"

My Old Friend's New Friend

"
"Rapper's Delight"
Sugar Hill Gang
"Anything For Love"
Meat Loaf
"All By Myself"
Eric Carmen
"

My New Game

"
"Lost Cause"
Beck
"

My First Kill

"
"Blue Eyes"
Cary Brothers
"

Her Story

"
"Funky For You"
Common
"Still D.R.E."
Dr. Dre feat. Snoop Dogg
"

My Cake

"
"The Streetbeater" (Sanford and Son Theme)
Quincy Jones
"Stop Joking Around"
Hawksley Workman
"

My Common Enemy

"
"Andy Griffith Show Theme"
Earle Hagen and Herbert Spencer
"She's Gone"
Hall and Oates
"Thank You"
Dido
"Move On"
Jet
"Take Off"
Tart
"

My Last Chance

"
"In The Mood"
The Glenn Miller Orchestra
"Can't Hold On"
Tart
"Something"
Cary Brothers
"If You Were Here"
The Thompson Twins
"Bad Case of Loving You (Doctor, Doctor)"
Robert Palmer
"Bust A Move"
Young MC
"Honestly"
Cary Brothers
"

My Malpractical Decision

"
"One (Finale)" from A Chorus Line
Marvin Hamlisch & Edward Kleban
"I Wanna Know"
The Mavericks
"Back to You"
Jeremy Kay
"

My Female Trouble

"
"Eine Kleine Nachtmusik, 1st Movement"
Wolfgang Amadeus Mozart
"

My Unicorn

"
"Hey, Good Lookin'"
Hank Williams
"Learn To Fly"
Foo Fighters
"Cat's in the Cradle"
Harry Chapin
"

My Best Moment

"
"What the World Needs Now is Love"
Burt Bacharach
"Take On Me"
a-ha
"Flight of the Bumblebee"
Nikolai Rimsky-Korsakov
"Joy to the World"
-
"

My Ocardial Infarction

"
"No, Not Much"
Al Stillman & Robert Allen
"Barbara Ann"
The Beach Boys
"All Kinds of Time"
Fountains of Wayne
"

My Lucky Charm

"
"Today"
Josh Radin
"

My Life in Four Cameras

"
"The Streetbeater" (Sanford and Son Theme)¶
Quincy Jones
Jingle from "Let's All Go to the Lobby" aka "The Clock"
-
"Isn't She Lovely"
Stevie Wonder
"Where Everybody Knows Your Name" (Cheers Theme)
-
"

My Roommates

"
"Faith in Angels"
Peter Mayer
"Windmills"
Toad The Wet Sprocket
"

My Best Laid Plans

"
"Rosanna"
Toto
"Can't Go Back"
Keren DeBerg
"Waiting For Your Letter"
Cary Brothers
"Closer"
Josh Radin
"

My Boss's Free Haircut

"
"Collide"
Howie Day
"

My Lips Are Sealed

"
"Everybody Gets What They Deserve"
The Churchills
"

My Big Move

"
"Come On Get Happy"
The Partridge Family
"Don't Look Away"
Josh Radin
"

My Faith in Humanity

"
"Closer to Spring"
Michael Zambrelli
"

My Changing Ways

"
"Half"
G Tom Mac
Key: ¶: Parody
Season Five
Edit
Song
Artist
"

My Intern's Eyes

"
"Are You Gonna Be My Girl"
Jet
"Anything Can Happen"
The Finn Brothers
"Devil Baby"
Mark Knopfler
"

My Rite of Passage

"
"Sooner or Later"
Michael Tolcher
"

My Day at the Races

"
"Kung Fu Fighting"
Carl Douglas
"Safety Dance"
Men Without Hats
"Moving On"
Weekend Excursion
"Everybody's Changing"
Keane
"My Face"
Tart
"

My Jiggly Ball

"
"Sideways"
Citizen Cope
"

My New God

"
"Koyaanisqatsi"
Philip Glass
"Slave to Love"
Bryan Ferry
"This Time Around"
The Emotion Project
AKA Jeff Tufaro Band
"In the Sun"
Joseph Arthur
"

My Missed Perception

"
"To The Woman"
Tammany Hall NYC
"These Photographs"
Josh Radin
"

My Way Home

"
"Africa"
Toto
"Maniac"
Michael Sembello
"We're Off to See the Wizard"
Harold Arlen
"Over the Rainbow"
Israel Kamakawiwo'ole
"

My Big Bird

"
"Symphony No. 5, 1st Movement"
Ludwig van Beethoven
"

My Half-Acre

"
"Working for the Weekend"
Loverboy
"Poison"
Bell Biv DeVoe
"100 Years"
Five For Fighting
"Hey Julie"
Fountains of Wayne
"More Than a Feeling"
Boston
"

Her Story II

"
"Happy Together"
The Turtles
"Ride"
Cary Brothers
"

My Buddy's Booty

"
"Shadow"
The Southland
"Open"
Rob Laufer
"Head Off"
Moris Tepper
"Without You"
Tart
"Blue"
Jayhawks
"

My Cabbage

"
"Fix You"
Coldplay
"

My Five Stages

"
"Bring Me Love"
Deberg/Jacobs
"The Long Road"
Pearl Jam
"

My Own Personal Hell

"
"Living Life"
Eels
"

My Extra Mile

"
"Episodes (Diphenhydramine)"
Pela
"Someone"
Tammany Hall NYC
"

My Bright Idea

"
"Running One"
Tom Tykwer, Johnny Klimek, Reinhold Heil
"All of the Words"
Kutless
"

My Chopped Liver

"
"Brick House"
The Commodores
"I Hear You Knocking"
Dave Edmunds
"Take Another Step"
Keren DeBerg
"Koyaanisqatsi"
Philip Glass
"I'll Be Around"
Bobby Bare Jr.
"

My New Suit

"
"Macho Man"
The Village People
"Still Fighting It"
Ben Folds
"

His Story III

"
"Boston"
Augustana
"

My Lunch

"
"How to Save a Life"
The Fray
"

My Fallen Idol

"
"Put on a Happy Face"
Lee Adams & Charles Strouse
"Something Else"
Gary Jules
"

My Déjà vu, My Déjà vu

"
"Welcome Back"
John Sebastian
"The Streetbeater" (Sanford and Son Theme)
Quincy Jones
"Heaven Sent"
The Emotion Project
AKA Jeff Tufaro Band
"World Spins Madly On"
The Weepies
"

My Urologist

"
"Kung Fu Fighting"
Carl Douglas
"Easier to Lie"
Aqualung
"

My Transition

"
"Don't Go Breaking My Heart"
Elton John & Kiki Dee
"William Tell Overture (Finale)"
Gioacchino Rossini
"Baby Back Ribs" (Chili's jingle)
-
"I Love the Nightlife"
Alicia Bridges
"Love Hurts"
Nazareth
"America"
Neil Diamond
"Delirious Love"
Neil Diamond
"New Model"
The Emotion Project
AKA Jeff Tufaro Band
"Boy"
Keren DeBerg
"Why"
Elefant
Season Six
Edit
Season Seven
Edit
Season Eight
Edit
Season Nine
Edit
Song
Artist
"

Our First Day of School

"
"Guy Love"
Fordham and Perry
"Out of Place"
WAZ
"

Our Drunk Friend

"
"Perfect"
Shane Drasin
"Moenjodaro"
So So Radio
"

Our Role Models

"
"Telescope"
Bright Eyes
"Moonshine"
Geoff Martyn
"Can't Go Back Now"
The Weepies
"

Our Histories

"
""Where The Music Takes You Away"
Ari Gold
"Coexist (Pat and Jim Radio Mix)"
Guy B
"Keep Talking"
Kurt Farquhar
"For Your Love"
Marching Band
"The Final Countdown"
Europe
"The Final Countdown"
Europe
"

Our Mysteries

"
"Jingle Bells"
James Lord Pierpont
"(I've Had) The Time Of My Life"
Bill Medley and Jennifer Warnes
"Boo Hoo V2"
Keren DeBerg
"This World Keeps Turning"
Latch Key Kid
"

Our New Girl-Bro

"
"Things Are What You Make of Them"
Bishop Allen
"

Our White Coats

"
"Sun Won't Shine"
Emelo
"

Our Stuff Gets Real

"
"Alive and Screaming"
Jake Walden
"Envy Of All Our Friends"
Jeff Bruckner
"

Our True Lies

"
"How You Remind Me"
Nickelback
"Theme From Charles in Charge"
-
"All My Days"
Alexi Murdoch
"

Our Dear Leaders

"
"Got to Give it Up"
Marvin Gaye
"No Surprise"
James Yuill
"

Our Driving Issues

"
"Losing Ground"
Tyrone Wells
"

Our Thanks

"
"Live and Learn"
The Cardigans