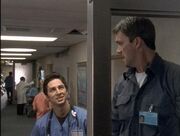 A Janitor story is a minor story line that follows Janitor's attempts to amuse himself around the hospital, usually by pranking or lying to people. A Janitor story is usually a short story line with little or no significance to the main plots of the episode.
In Season Two and beyond, Janitor begun to have a more prominent role in some episodes. He would occasionally help the doctors and nurses (specifically Blonde Doctor). The Season Five episode "His Story III" is told from Janitor's point of view.
Janitor's tendencies
Video
thumb|650px|right|   Various Janitor moments in Scrubs
Ad blocker interference detected!
Wikia is a free-to-use site that makes money from advertising. We have a modified experience for viewers using ad blockers

Wikia is not accessible if you've made further modifications. Remove the custom ad blocker rule(s) and the page will load as expected.